Curriculum & Learning Goals
INFANTS
Our Infant room utilizes the Baby Signs® program. The Baby Signs® Program is the world's leading program for hearing infants and toddlers.
Sample Signs:


Signs are always presented both verbally and with the hand motion, therefore encouraging language development as well.
TODDLERS / RAINBOW ROOM
Circle Time
Circle time is an opportunity for respective learning. We sit down together and sing our "ABC's", count on our fingers from 1 to 5, sing finger-play song,"The B-I-B-L-E", and sing many other songs. We read books related to the theme of the week and the same book is read for the whole week. Toddlers love repetition and this is a great way for them to learn. We end circle time by practicing our sign language. We encourage the toddlers to use their words and signs for communicating to their friends and teachers.
Fine Motor/Art
After circle time we sit at our table for fine motor activity. Art encourages a sense of wonder and adventure. Art is a tool that helps children interpret the world around them. Art helps toddlers with their fine motor skills of grasping and enhances their eye hand coordination.
Bible Story
Before nap time we sit down with our blankets and read a story from a children's Bible. We also sign and say thank you to Jesus for this day.
TWO'S ROOM
We practice a lot of self help skills in the Two's Room. A few of these include getting shoes on and off, getting coats on and off, and later on when ready, potty training. If you feel your child is ready for potty training, let us know and we will send home a potty training information paper.
Our circle time is a little longer than in the Rainbow Room. Each child sits on a carpet square and then we prepare our hands and bodies to sit quietly and listen. We have a story and song/finger play that goes along with our weekly theme. Then we review our sign language and zoo-phonics. Following circle time, each child puts away his/her carpet square and transitions to the table for an art project.
THREE'S ROOM
We continue to practice self help skills and using our manners in the Three's Room. This includes putting on coats, putting on shoes/socks, buttoning/zipping pants, saying please, thank you, excuse me, and using words to express needs/wants.
Our circle time is 70 minutes long and consists of a lot of different activities. We start out with sharing, a welcome song, and job time. Each child receives a job to encourage the child to help out around the room and build self confidence in leading a certain part of our circle time. Our jobs include:
Calendar: The calendar person informs the class of our month, year, and season. Then the calendar person leads the class in counting all the number dates so far. After that, we figure out what day of the week it is by singing our "Days of the Week Song" and recite the date.
Weather: The weather person stands on a stool, looks out the window and tells us what the weather looks like for that day. Then he/she changes our weather wheel to the coordinating weather picture and leads us in singing our coordinating weather song.
Other Jobs: light turner, door opener, line leader, caboose, table cleaner, and teacher's helper.
Zoo Phonics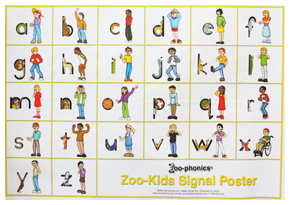 Once all our jobs are done, we have Zoo Friend Time. We discover who our Zoo Friend of the Week is and what their sound and signal is. We review the previous Zoo Friends and their letters. Once your child knows all/most of the Zoo Friends by name (Ally Alligator, Catina Cat, etc) we begin to talk about the coordinating letter (Ally A Alligator, Catina C Cat, etc).
After Zoo Friend time, we head to the table for morning snack. After snack we then start talking about our theme for the week. Each week we have a different theme in which our story, songs, craft and activities revolve around. During story time the children are encouraged to ask questions, answer questions and share their thoughts and opinions about the story. Once the story and wrap-up is finished we head back to the table to do our art project. For the remaining time in our circle room we have small group time, one-on-one teacher time and free play.
FOUR'S ROOM
In the Four's Room we begin working on building social, language, literacy and mathematics skills that will help your child when they enter Kindergarten. Circle time is broken up into the welcoming, jobs, the pledge of allegiance, calendar, weather, prayer, math, Zoo Phonics, theme of the week, story time and art.
During the welcoming and job part of circle time, your child will have a chance to share what is new or important in their lives. This gives your child a chance to vocally express their feelings. We work on first and last name recognition which is a skill that we want all children to have at the end of the fourth year. Jobs are created to help your child with responsibility. The jobs we use in the Four's Room are calendar, weather, line leader, table, paper passer, flag holder, prayer leader and door holder.
Calendar is a time that your child will learn the days of the week which we do by using songs, learn to count to 30, learn the seasons, and sharpening their color recognition. Weather time is used to help identify how the weather is outside in Michigan and how we should dress for the weather.
We continue to build on the Zoo Phonics program from the Three's Room. Each week a special Zoo Friend stops by. We continue to work on their name, sound, signal and we start to pull the letter away from the friend. We start to look at the difference between upper and lower case and we start trying to write the lower case letter form.
The theme of the week is used to open up your child's mind and introduce them to new topics. All the art projects and stories we read are based on the theme. Every other month we take a field trip that closely relates to the theme as well. On Wednesday we have a Bible story and talk about a character in the Bible. On that day our craft will relate to that story.
Story time is used to help build the concept of print, which will help your child when they become fluent readers. Some examples of things we talk about is how to hold a book correctly, that pictures help tell the story, what the author/illustrator does for the story, re-telling the story in their own words (reading comprehension), and so on.
Just like in the Three's Room, we continue to work with your child on dressing themselves. We also continue to work on identifying and using their words to describe and express their feelings rather then by baby talking, hitting or telling on one another. We use sayings like, "hands are not for hitting/pushing"; rather "hands are for hi-fives/ shaking hands/ hugs".
SCHOOL AGE ROOM
In the school age classroom, we work on many different skills. Our goal is to stretch our knowledge and our thinking and to develop a desire to learn more. During the summer we work on skills your child will need moving up to 1st and 2nd grades. Some key things we work on include: working independently, letter recognition, sight words, basic math skills, handwriting, bible study, and for the older kids – Reading! We encourange your child to bring a book from home for independent reading time.